INTRODUCTION:
A new Fast RNA Stain Kit™ for polyacrylamide and agarose gels, Northern and Southern blots.
Fast RNA Stain Kit™ is specifically developed to give sensitive staining of single stranded RNA and DNA. RNA and DNA can be recovered from gels (Fast RNA and DNA Elution Kit™), and used for RT-PCR, sequencing and labeling. Compared to any fluorescent stains, Fast RNA Stain Kit™ does not require a UV transilluminator for the RNA detection on polyacrylamide or agarose gels (see Instruction Manual).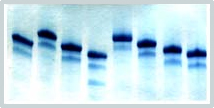 FEATURES:
FAST RESULTS – in minutes;
EASY TO USE – one step incubation;
NON-HAZARDOUS – no special precautions needed;
PERMANENT – no need for photographic recording;
SENSITIVE – detects nanogram of nucleic acids;
PRODUCT SPECIFICATION
Catalog No: HG100122
Description: Fast RNA Stain™
Size: 500 ml
Catalog No: HG100124
Description: Fast RNA Stain™
Size: 1,000 ml
PRICE
Fast RNA Stain™ (500ml) – $87.00 USD
Fast RNA Stain™ (1,000ml) – $160.00 USD
ORDER

HealthGene offers convenient methods for ordering
Online
Please follow this link to securely order the product online
Fax
Download and Print the Order Form (Acrobat Reader is required*);
Fax the completed form to 416-658-2042.
Phone
Toll-free: 1-877-371-1551;
Phone: 416-658-2040.

DELIVERY
The product is shipped by FedEx in 2 business days (delivery fees are applied).

ADDITIONAL INFORMATION
Fast RNA Stain™. Instruction Manual.


Notes:
To download Adobe Acrobat Reader, please visit Adobe website.