Canine Heartworm Ag Test Kit
Our Canine Heartworm Ag Rapid Test Kit is a sandwich lateral flow immunochromatographic assay for the qualitative detection of Dirofilaria immitis in dog's blood samples. Please review the Heartworm Ag Rapid Test Kit specification below: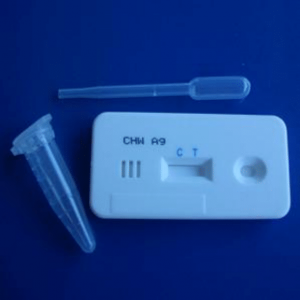 Specifications:
Principle: Sandwich lateral flow immunochromatographic assay

Intended use: Detection of Canine Heartworm Antigen

Specimen: Serum, plasma or whole blood

Sensitivity: 93.5%

Specificity: 99.8% – No cross reaction against Dipetalonema reconditum

Reading time: 5 – 10 min

Shelf life: 18 months under room temperature

Storage: 2 – 30°C. No freezing

Packing size: 10 tests/box

Certification: ISO 9001, 13485 certified
Advantages:
Heartworm Antigen rapid test is a quick and easy diagnostic tool that can be performed during consultation in just 5 – 10 minutes
Heartworm Antigen rapid test can be stored for 18 months at room temperature, between 2 and 30°C
Kit Components:
10 X foil pouches, each containing one cassette, one pipette, and a desiccant
10 X assay buffer tubes (0.5 ml each)
10 X centrifugal tubes
Product Manual
Test procedure: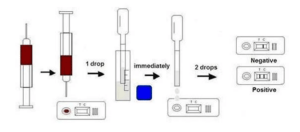 1. Take canine blood, serum or plasma as a sample.
2. Take out the cassette from the foil pouch and place it horizontally.
3. Drip 1 drop of sample and immediately drip 2 drops of assay buffer into the sample hole.
4. Interpret the result in 5 – 10 minutes. Results after 10 minutes are considered as invalid.
Positive: The presence of both C band and T band, no matter T band is clear or vague.
Negative: Only clear C band appears.
Invalid: No coloured band appears in C zone, no matter whether T band appears.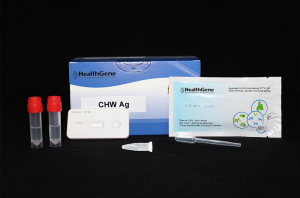 To place an order, please fill out the form above.
Once completed, you may submit the form by e-mail to info@healthgene.com or by fax (289) 553-5232.

*Additional shipping charges may apply for orders outside of the Greater Toronto Area. Please contact customer service prior to placing an order for prices and shipment estimates (if applicable).
*THESE KITS ARE FOR VETERINARY PROFESSIONALS ONLY – NOT FOR SALE TO THE GENERAL PUBLIC.*