Since its establishment, HealthGene has been supporting avian breeders and clubs through sponsoring shows, donating gifts and free tests, giving free lectures.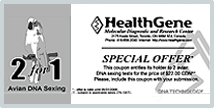 HealthGene's "2 for 1″ coupons have become a very popular item as well as in raffle tables at many shows. This coupon entitles the holder for 2 DNA sexing tests for the price of one. Please, contact us with information about your club and shows and we will be glad to donate some of our coupons.


Upcoming events:
HealthGene promotes the importance of infectious testing by issuing regular electronic newsletters, presenting statistical data on major infectious diseases, supporting research projects, etc. Every year HealthGene actively participates in the Canadian Parrot Conference.
Please visit our photo archive.
Canadian Parrot Conference
2004
2005 – a new photo gallery will be added soon